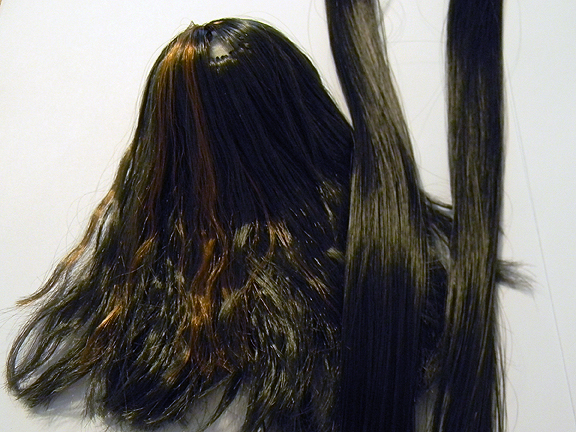 So my dollyhair order finally arrived and I went ahead and shot some fiber comparison pics in the hopes that it might be helpful for other people who are trying to match colors and whatnot. Above is the Kohl Brown Kanekalon hair from dollyhair.com next to my Liv wig. It is a very very close match and will do nicely for patching up the bald spots in the wig. The fiber of the Liv with though is a little smoother and softer, but it is definitely not saran, and has that "dry feeling" like the Kanekalon, and is too fine a fiber to be the nylon. So I'd say it's up in the air as to what kind of fiber this wig is made out of.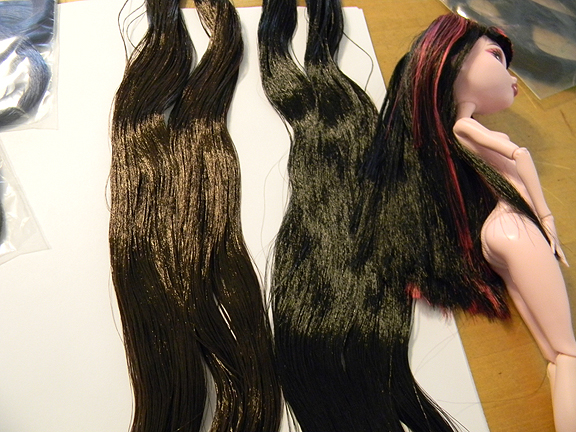 These are the two shades I am waffling between for my Draculaura re-root. On the left is Bitter Chocolate Brown, and on the right is Raven Black. Raven Black is of course a true match for Draculaura's factory hair, but it's not hard to match blacks usually. :B The Bitter Chocolate Brown is actually a bit darker than in the photo. It is as advertised as being the closest brown you can get to black and it does not have any red tones.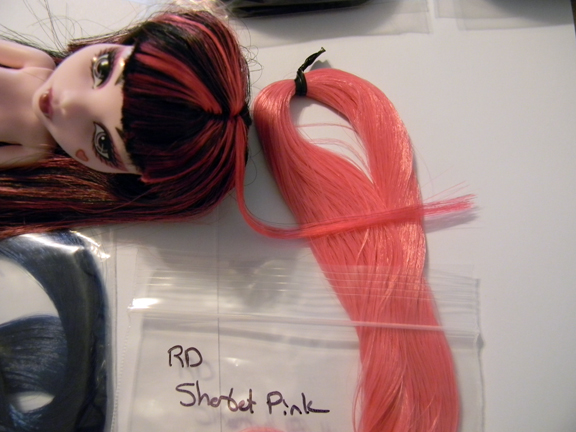 Next up is the Sherbert Pink comparison. As you can see from the pic that Draculaura's hot pink streaks are a scootch bit darker than Sherbert Pink. It is very close though, so probably if you wanted to just add a few extra strands of pink in her factory hair, you could probably get away with using this color depending on how fussy you are. I actually bought this hair for a custom Twilight Sparkle I plan to work on after I finish Rainbow Dash who is coming along nicely by the way!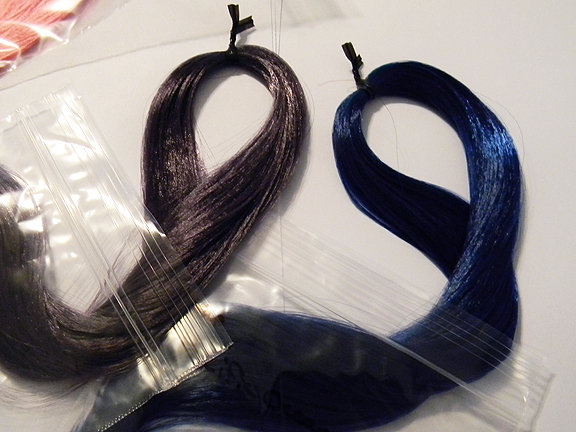 Lastly I bought some Hematite (on the left) and Pacific Ocean (on the right) nylon hair. This pic is fairly close to the true color, though in person I feel you can see the hint of plum in the Hematite more and Pacific Ocean has a touch more teal in it. I purchased these two colors with the intention of rerooting my Twilight Sparkle with them. Seeing Pacific Ocean in person though makes me feel that straight Hematite may work best for her reroot though. Originally I thought to mix the two colors, but now I'm not so sure. Anyhow all of those color comparisons are for another day as I am nowhere near starting that project yet.