So a lot of doll related things have been happening, but I just haven't had the time to blog since it's been the holidays and I am trying to get everything together to go on vacation in January. The first thing that happened is the wig and headband I ordered in a For My Doll GO arrived. Here is a shot of Lulu in her new wig and Sona is wearing Lulu's old wig.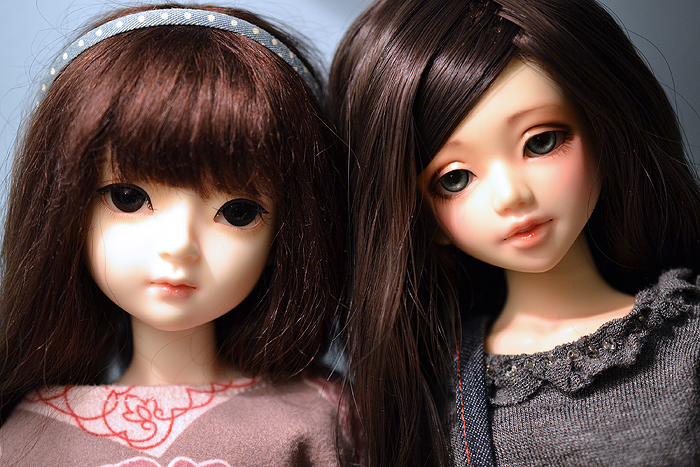 I have to say that this is the second wig I have ordered from For My Doll and I couldn't be more pleased with the quality of wigs from that shop. Frankly I consider my FMD wigs to be of better quality than the one Leeke wig I own. Anyhow, I really like this wig on my Lulu, but I'm not sure how I feel about Sona in Lulu's old wig. It's cute and looks a bit more mature over her old pigtails, but I think I may still be questing for a wig yet for Sona. I think maybe I also need to try to buy other colors of wigs besides brown, but I just can't help it!! I love dark brown hair and FMD's "mild black" is the perfect deep brown.
Aside from the wigs, I've begun working on creating an SD sized bed for the first piece of furniture for my room box. I have my plans all drawn out and my wood bought, but I've only just begun cutting and painting. I really hope I get a chance to work on it some more before my vacation because I'd love to make a blog posting and share my progress, but I also have to double up on my work so I don't have anything due over vacation AND I also have to finish hemming my dress among other vaycay prep.
Lastly the Dollstown elf body shipped a couple days ago and I was super excited to follow it's tracking until suddenly after arriving in Chicago today it was detained by Customs saying "customs retention: other" D: I've never had this happen before so I popped on DoA to see if anyone else had this trouble before and sure enough there is a thread dedicated to it in the buying and shipping section. After reading through the thread I feel a little better since another user said that packages are processed through Chicago's customs very fast. I'm really hoping that it only has that status since it arrived after 6pm on a Saturday and it just waiting for Monday's work week to come around. I am going to be a bundle of nerves until this body arrives since I will be leaving on the 17th for vacation and it must arrive before then! D: I'm going to keep my fingers crossed that my package clears customs on Monday. The last thing I need is for it to get stuck in customs for a week or more and then ship when I am gone. I've heard where EMS packages won't be kept for any longer than 5 days even in vacation hold mail. Oh man….I just don't think I can say this.. D: enough…lol. If this has taught me anything it's to not order things before vacation, even if it is in stock and will ship within a week and you still have a month left before vaycay so it should be "safe"…because apparently everything will go wrong.