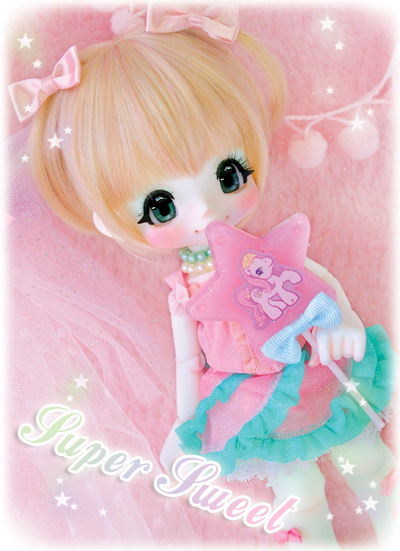 I had another dollhouse wallpapering catastrophe, so I thought maybe I'd blog about something more fun, the Kinoko Juice dolls! You can tell from the pic that they are just super adorable, sugar-manga overload dollies, and I must admit I love them so. Judging from the trade show pics I've seen online of them they appear to be a little shorter than Blythe and seem to be able to wear some of Licca Chan's clothes. I am just basing this off of what I have seen at a quick glance on her blog though. You can check out the artist's blog here: http://kinokojuice.blog35.fc2.com/ to find out more about them, or just look at all of the eye candy. The blog is all in Japanese though, so if you don't read Japanese you'll need to use a translator or something.
I hear that these dolls sell out very quickly at conventions/doll shows, and that they are rather expensive. Apparently they run around $900+ depending on the exchange rate at the time, which makes them really pricey, though it appears that they are sold as fullsets? If they are sold as fullsets the price is a little more justified. I haven't really read enough on the blog yet to be able to tell, but I'll have to scour that thing one day when I'm feeling lackluster.
EDIT: So I found out that the height of these dolls are 23cm, and the yen price is 90,000. They are all made of resin and have custom eyes. When you purchase a doll you get the whole set, the clothes, the make-up, wig, eyes and so on. The artist DOES have a online shop where she announces a very very limited sale period. Don't get too excited though, because she will not sell or ship overseas to you. The only way you can get a Kinoko Juice doll is to go to Japan and get lucky enough to be able to purchase one at a doll show, or to be living in Japan and get lucky enough to order one off of her website. I suppose there are always deputy services, but considering the very limited web sales, the likelihood of getting one is very slim.
In the end, even as cute as they are, they are probably not terribly worth the trouble. After all, you can get a full-set Mui-chan for less, and she has a nice faceplate system and lots of extra hands and feet options. That's just my opinion though. Either way the Kiniko Juice girls are still fun to look at, at least.