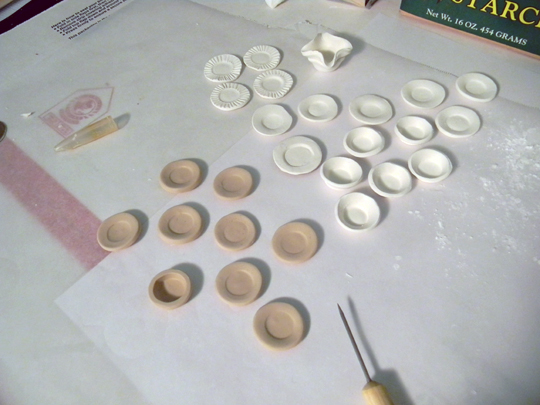 I felt like making a set of custom dishes for my 1:12 scale dollhouse, so after reviewing some tutorials online I played around with creating some plates and bowls. I ended up having a lot of fun and sorta getting in the zone while creating these that I ended up making quite a lot. XD
At this point all of the plates and bowls have been fired and I'm working on sanding and refining them. The beige plates turned out a little darker after firing than I wanted. I was aiming for more of an off-white plate, so I may wind up painting them a lighter color. I also have plans to attempt to paint some designs on all of the plates. The beige plates I made specifically to match my kitchen and I wanted to do a red mushroom motif on them. I'm not certain what I want to do with the white plates and bowls. Originally I imagined doing something a little shabby chic looking, but the style of dishes might not lend to that. Maybe it's time to review Crate and Barrel's dish designs, lol.
I think I made more than I need, and I kind of feel like experimenting more with the polymer clay, so I may wind up making some of these to sell as well. If I do offer any for sale I'll be sure to make a posting.