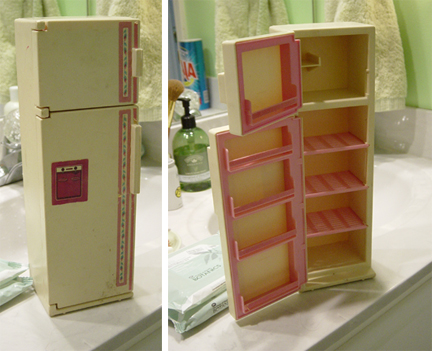 One of my aunts is an antique dealer and knowing I was trying to put together a playscale dollhouse, she kept an eye out for old dollhouse furniture for me and found some of the Barbie Sweet Roses furniture from 1987. She actually found more than the fridge for me, there is also a kitchen set, a cabinet, sofa, chairs and a few other things, most of which are from the Sweet Roses collection. Anyway I decided to tackle the fridge first as I have been wanting a new fridge since I kinda mucked up the repaint of the hot pink barbie fridge I had.
This Sweet Roses fridge had been in an attic and it has yellowed with age and heat. I know that originally the fridge was white, and inside there is some light pink detailing. The great thing about this Barbie fridge is that it's quite a bit deeper than the current barbie fridges on the market, which means it can hold more cute re-ment food! But more importantly this Barbie Fridge from the 80s is more to scale than the newer fridges, meaning when Pullip goes to open the top freezer, she will actually be looking into the freezer and not looking at the top of the fridge. This old fridge is also much better put together as well, for example the shelves inside are nice and level and don't sag like the latest fridge does. XP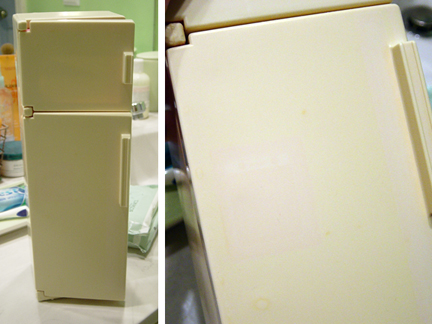 So the first stage of refurbishment was to scrub down the fridge which was a little dirty, and to get the old yellowed and torn decals off of it. It took some effort to get the decals off, because the glue was really holding them on there. With the newer fridges, just a 15-30 minute soak in hot and soapy water will pretty much remove the cecals easy, but this one required more elbow grease. In the end after a soak in warm soapy water wasn't doing the trick, I broke out the isopropyl alcohol and rubbed it down, finally removing the decals.
After removing the decals I noticed that the plastic underneath wasn't as yellowed as the rest of the plastic, which is unfortunate. You can see it just barely in the pic above. Now this leads to me to decide what to do next. I've heard that putting yellowed plastics in a bleach or hydrogen peroxide bath can help remove yellowing, but I've also heard that it can make the plastics more brittle. I have also considered a repaint, but after my last failure, I'm not too keen in wrecking yet another fridge. There is also the fact that the way this fridge it put together means I can't separate parts nearly as easily for repainting either. Whatever I decide to do, I'll probably continue to post the results here.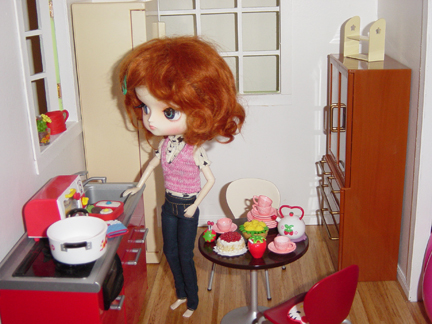 For now though I have placed it in my dollhouse kitchen and been messing around with furniture arrangement. My kitchen is really coming along now, especially since my mother found me the brown re-ment china cabinet when she was shopping in Pittsburgh. The dimensions of the Sweet Roses fridge works really well for my kitchen, it fits neatly in the space between the two windows, but I would need to make some sort of cabinet to go in the space between the red re-ment kitchen and the fridge. I would also eventually like to make some red wall cabinets to match and pull the room together more. Still a lot of work to do, but little by little I am getting there. 🙂